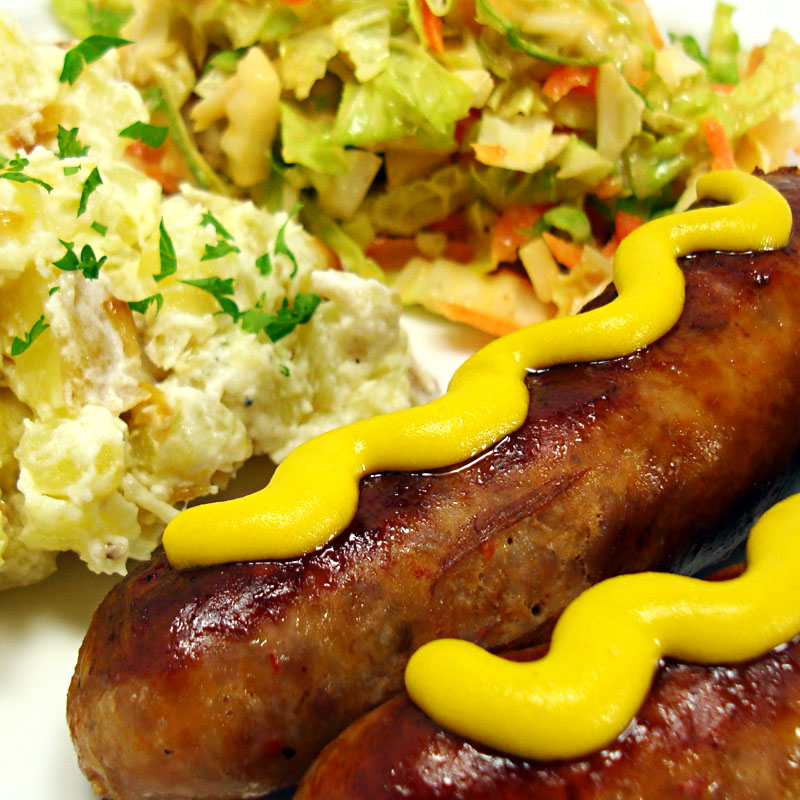 Sausage & Sides
Spicy Italian sausage, warm potato salad, spicy slaw. A simplegood riff on a classic Texas tradition.
Serves 4
Ingredients
Sausage
• 8 Links uncooked Spicy Italian pork sausage (we prefer using sausages from Trader Joe's)
• Mustard
Potatoes
• 4 medium un-peeled Yukon Gold potatoes, about 3 cups, diced into 1/4 inch cubes
• 1/2 cup chopped sweet onion, caramelized
• 3 tablespoons Labne (Kefir cheese made from yogurt, typically found in international markets where middle eastern foods are sold). If Labne is not available, greek yogurt or sour cream are good alternatives.
• Olive oil
• Minced parsley for garnish
• Salt and pepper to taste
Slaw
• 4 cups thinly sliced Napa or Chinese cabbage
• 1 large carrot, grated
• 1/2 cup mayo made with olive oil
• 2 teaspoons Sriracha sauce (Red Rooster sauce), a hot garlic sauce found in most grocery stores
• 1 teaspoon seasoned rice vinegar
• 1 tablespoon water
Directions
Preparing the Sausages
• In a large skillet, over medium heat, add enough oil to cover the bottom of pan. No oil necessary if using a non-stick skillet.
• With a sharp knife, pierce each uncooked sausage link once to prevent from exploding in the pan.
• Place sausages in pan and brown on both sides. Cook 12 – 15 minutes until sausages are done all the way through.
• Keep warm while finishing the sides. Serve with mustard.
Preparing the Potatoes
• Start by caramelizing the onions. Onions can cook while prepping the potatoes.
• Heat a small skillet over low heat, with enough olive oil to cover bottom of pan generously.
• Place chopped onions in skillet. Do not stir until they start to brown.
• Cooking the onions on low heat for 30 – 40 minutes allows the sugars in the onion to be released, which makes for dark, rich, sweet, golden-brown onions.
• Stir occasionally until very tender and golden brown. If you don't want to fully caramelize the onions, simply cook until tender.
• Bring a medium pan of water to boil over high heat.
• Chop un-peeled potatoes into 1/4 inch cubes. Place potatoes in boiling water.
• When water returns to a boil, lower heat to medium, and cook at a gentle boil until tender (tender test: find one of the larger pieces and pierce with a sharp knife, if it glides through without resistance, the potatoes are ready).
• Remove from heat, and drain in a colander.
• Return potatoes to the same pan, add onions, about 2 tablespoons olive oil, salt and pepper to taste, and mix well.
• Add the Labne to the potatoes. Mix gently and carefully to avoid mashing the potatoes. Garnish with minced parsley.
• Serve potato salad warm or at room temperature.
Preparing the Slaw
• Prepare slaw while potatoes are cooking.
• Stack all the long cabbage leaves on top of one another. Roll the leaves lengthwise into a tube. Start at one end, finely slicing across the leaves. Then cut those slices in half again. Place in medium sized bowl.
• Grate carrot and add to cabbage.
• In a small bowl, mix mayo, Sriracha and vinegar. For an extra kick of spice add a third teaspoon of Sriracha.
• Mix well and add a tablespoon of water to make it easier to pour and evenly distribute the dressing on the cabbage and carrot mix.
• Pour and distribute dressing on cabbage and carrot mix.
• Serve slaw at room temperature.
Serving
• Place sausages, potato salad and slaw on dinner plate. Garnish the sausages with mustard. Enjoy!