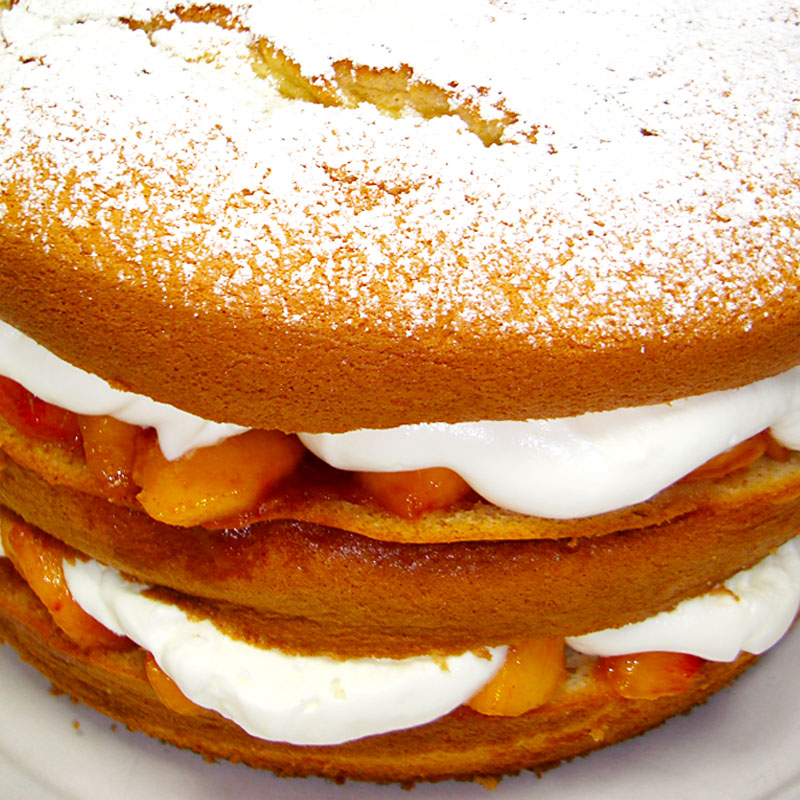 A delightful, tender and delicate summer cake, the Peaches & Cream Chiffon Cake is a wonderful opportunity to use fresh Hill Country peaches at the height of their season. We prefer peaches from Studebaker Farms.
An obligatory nod to Martha Stewart for the original recipe, which we have modified to suit our simplegood tastes.
Ingredients
For the cake
• 2 1/4 cups cake flour (not self-rising)
• 1 1/4 cups granulated sugar, divided
• 2 1/4 teaspoons baking powder
• 3/4 teaspoon salt
• 1/2 cup safflower oil
• 7 large egg yolks plus 9 large egg whites
• 3/4 cup whole milk
• 1/2 teaspoon cream of tartar
• 1 whole vanilla bean, split and scraped, or 2 teaspoons pure vanilla extract
For the peaches & cream
• 5 Cups of pealed and seeded peaches, diced into 1/2 inch pieces
• 1/4 cup granulated sugar, depending on the sweetness of the fruit
• 1 tablespoon fresh lemon juice
• Pinch of salt
• 2 cups cold heavy cream
• 1/8 cup confectioners' sugar, plus more for sprinkling
Directions
• Making the cake: Preheat oven to 325 degrees. Whisk together flour, 1/2 cup plus 2 tablespoons granulated sugar, the baking powder, and salt. Whisk oil, egg yolks, and milk in a large bowl. Whisk flour mixture into egg-yolk mixture.
• Beat egg whites with mixer on high speed until frothy. Add cream of tartar and vanilla seeds or extract –we strongly recommend using vanilla bean, which adds depth to the flavor. Beat until soft peaks form. Gradually add remaining 1/2 cup plus 2 tablespoons granulated sugar, beating about 5 minutes until stiff, glossy peaks form. Whisk one-third of the egg-white mixture into batter. Gently but thoroughly fold in remaining egg-white mixture with a rubber spatula.
• Transfer batter to tube pan. Bake until top of cake springs back when touched, anywhere from 40 – 55 minutes, depending on your oven. Use the touch test, it's your best gauge. Once the cake springs back from your touch, additional time in the oven is just drying out your cake.
• Let cool upside down 1 hour over a bottle or on tube-pan feet.
• Making the peaches & cream: While cake is baking and cooling, combine peaches, granulated sugar, lemon juice, and salt, and let sit, stirring occasionally, 1 hour. Just before assembling, beat cream and confectioners' sugar until medium peaks form.
• Slide a paring knife around edges of tube and side of pan; release cake. Cut cake horizontally into 3 layers with a long serrated knife. Transfer bottom layer to a cake plate or platter. Spread with half the peaches, and drizzle with juices. Spread half the whipped cream over peaches, then top with middle cake layer. Spread with remaining peaches and whipped cream. Top with remaining cake layer. Refrigerate cake 1 hour. Sprinkle with confectioners' sugar, and serve.
Keep cake refrigerated.