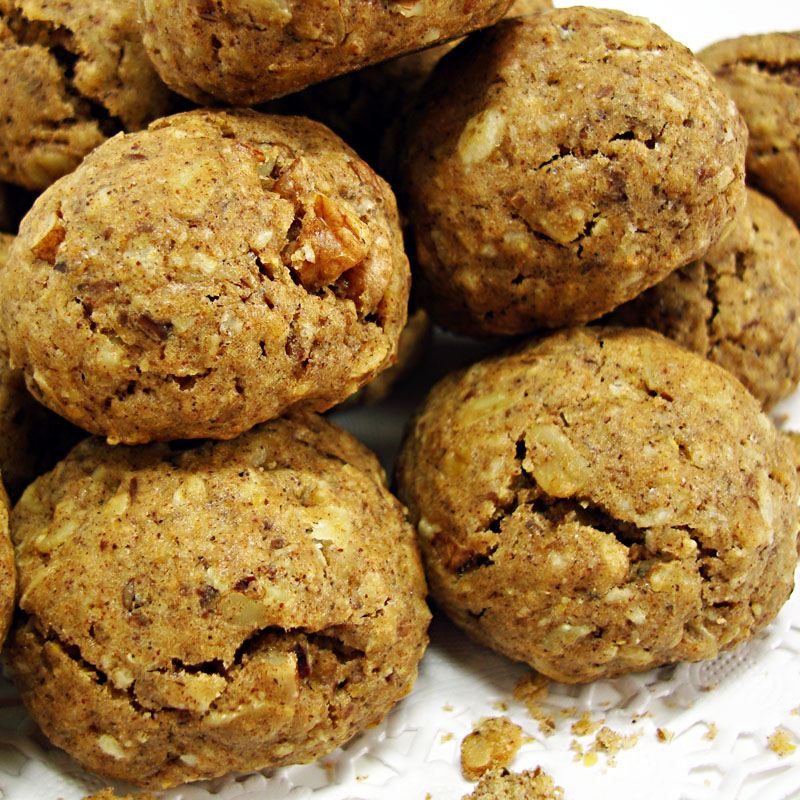 Well Rounded Oatmeal Cookies
Makes 16 cookie balls
Ingredients
• 1/2 cup all purpose flour
• 1/2 cup whole wheat flour
• 2 tablespoons raw wheat germ
• 2 tablespoons ground flax seed
• 1 heaping teaspoon baking powder
• 1 tablespoon ground cinnamon
• 1 large egg
• 1/3 cup plus 1 tablespoon vegetable oil (made from soybeans)
• 1/4 cup natural unrefined sugar (1/2 cup if you like your cookies sweeter)
• 1 teaspoon vanilla
• 3/4 cup old fashioned oats (not instant)
• 1/2 cup chopped pecans
• 1 tablespoon soy milk
Directions
• Preheat oven to 350 degrees and place rack in the center of oven.
• Mix first 6 ingredients in a medium size bowl. Stir well with a wire whisk to incorporate all ingredients.
• In another medium bowl, mix egg, oil, sugar, and vanilla until well blended.
• Add flour mixture to egg mixture and stir well with a sturdy spoon.
• Add pecans and oats and mix well.
• At this point the mixture will be very stiff (Place moist dish rag underneath your mixing bowl to keep it from sliding around on the counter).
• Add 1 tablespoon of soy milk to mixture and stir well.
• Using a non stick cookie sheet or a cookie sheet lined with parchment paper, scoop out dough in 2 tablespoon measurements, roll dough into a ball and place on cookie sheet 1 inch apart.
• Cook in center of oven for 14 minutes.
• Remove immediately from oven and let cool on cookie sheet for 5 minutes.
• Place slightly cooled cookies on a wire cooling rack to cool completely.