Serves 4
Special equipment: Metal Meat Tenderizer
Ingredients
• 2 cups boneless skinless chicken breast, tenderized, cooked and hand torn
• Canola Oil
• 3/4 cup sweet onion chopped
• 1 clove garlic minced
• 1 cup yellow potato diced in 1/4″ cubes, skin on
• 1 heaping cup crimini mushroom sliced
• 1 large carrot, 1/8″ slices, cut on the diagonal, about 1/2 cup
• 4 – 6 Kefir lime leaves
• 1, 3″ piece Lemon grass, green and white part, smashed
• 2 Tablespoons Biryani concentrated curry paste
• 2 Tablespoons Madras concentrated curry paste
• 1 cup reduced sodium chicken broth
• 1/2 cup frozen chopped spinach
• 1.25 cup unsweetened coconut milk from a 16 ounce can
• 3/4 cup frozen baby peas
• Juice of one lime
Cooking The Chicken
• Trim chicken of all unwanted fat and cartilage.
• On a cutting board that is designated only for raw meat, place chicken breast between two pieces of plastic wrap.
• With the metal meat tenderizer, pound the chicken breast using the smooth side of the hammer until meat is very thin without breaking apart. The chicken breast should have the same thinness all over. Repeat until all chicken is tenderized.
• In a large 12″ skillet, heat enough canola oil to cover the bottom of pan, over medium high heat. Oil is ready when the surface of the oil begins to dimple, but not smoke. If the oil smokes, start over because the oil becomes bitter.
• Cook chicken in small batches, placing a few pieces of meat in the skillet at a time. Do not overcrowd the pan.
• Brown chicken on both sides. The tenderized chicken will cook quickly, about 2 minutes total.
• Once meat is cooked, transfer to a plate and start another batch. Loosely cover cooked chicken with foil while you complete the rest of the cooking. Wipe skillet clean with a paper towel.
Cooking The Vegetables
• In a medium pan, cook potato and carrot in boiling water. Approximately 5 minutes or until the potatoes are tender. Drain and set aside.
• With the same skillet used for the chicken, add more canola oil to pan, enough to cover bottom generously, and heat on medium high heat until oil dimples.
• Add onion, garlic and cook until onion is translucent. Add mushrooms, Kefir lime leaves and lemon grass and cook until mushrooms are tender.
• While the vegetables are cooking, tear the cooled chicken into bite size pieces filling a 2 cup measuring cup to the brim.
• Add potato & carrot mixture to skillet and combine.
Making The Curry
• Open up space in the middle of your skillet by pushing the vegetables to the sides.
• Spoon the curry paste into the center of the skillet and let it cook over medium heat for about a minute or two.
• The paste will be very thick. To thin it, add 1 cup chicken broth. It should be the consistency of gravy. Add frozen spinach to the vegetable curry, mix and stir to combine. Reduce the heat to medium low and allow it to simmer for a few minutes. Curry paste needs to cook a few minutes to develop its full flavor.
• Add coconut milk to the skillet and incorporate.
• Add the frozen peas and mix well. They are already cooked so just heat them through. This allows them to retain their bright green color.
• Add chicken pieces, stir and heat through, about 3 minutes.
• Taste the curry. If it is too strong, add more coconut milk or chicken broth. If too weak, add another Tablespoon of curry.
• Just before serving, squeeze the juice of one large lime into the curry and stir.
• Serve on plate with toasted pita bread, quartered, and a dollop of Labne, a yogurt cheese.
• Also goes very well with brown Jasmine rice.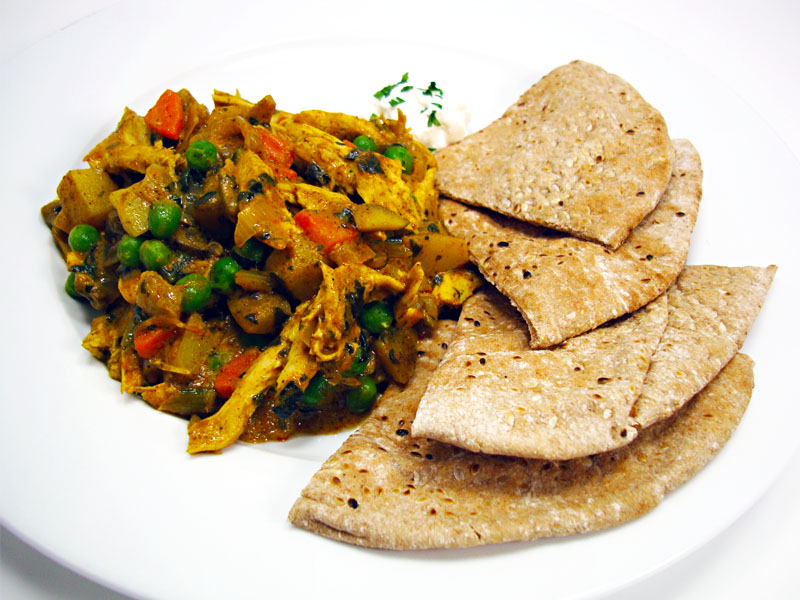 Two Curry Chicken Plate