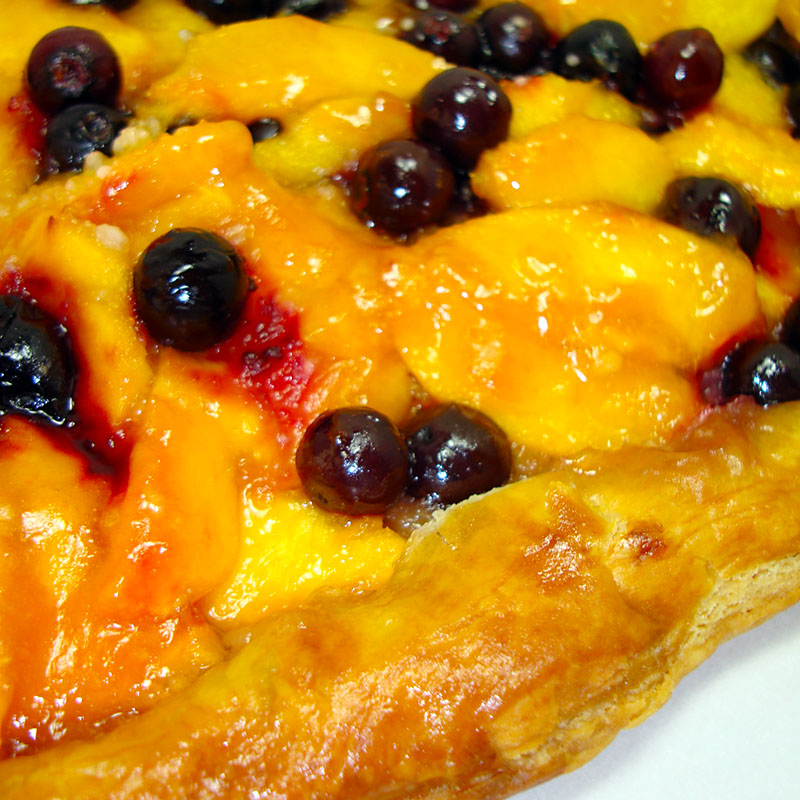 This Rustic Peach & Blueberry Tart is very easy to put together. Using store-bought puff pastry, making this dessert is a snap; a great way to enjoy seasonal fruits at their best.
Makes 6 – 8 servings.
Ingredients
• 1 sheet puff pastry, from a 17.3 ounce package, found in the frozen dessert case (thaw according to package directions)
• 1 tablespoon flour for dusting
• 1 egg, beaten
• 9 medium fresh peaches, approximately 3 cups, peeled and sliced
• 1/2 pint blueberries
• 1/4 cup sugar
• 1 scant tablespoon Instant Tapioca
• 2 tablespoons of apricot jam, preferably not too sweet
Directions
• Preheat oven to 400 degrees.
• Arrange one oven rack on the lowest level and one rack in the middle.
• Dust work surface and rolling pin with flour.
• Roll out pastry sheet to about 11 x 14 inches.
• Place puff pastry on parchment-lined cookie sheet. With a knife, lightly score pastry 1 inch from the edge all the way around, creating a 1-inch border. With a fork, prick pastry every 2 inches, within the 1-inch border.
• Place cookie sheet with pastry in the refrigerator for 10 minutes.
• Remove pastry from refrigerator and brush the border with the beaten egg, using a pastry brush. Place cookie sheet on oven's lower rack for 10 minutes. This step ensures the bottom of the tart is cooked.
• While the pastry is cooking, peel peaches, cut into 1/4″ slices and place in medium size bowl. If peaches are not completely ripe, they will be difficult to peel and will need blanching.
• Blanching: Bring a large pot of water to boil and put the peaches in the boiling water for 1 – 2 minutes. Remove peaches and run under cold water to cool and peel.
• Rinse and drain blueberries, add to sliced peaches.
• Put sugar and Tapioca into peach-blueberry mix. Let sit for ten minutes to soften Tapioca.
• When pastry is ready, remove  from oven. If it has puffed up, use a spatula to gently press out the air in the center of the pastry.
• With a large spoon, place peach-blueberry mix within the border of the pastry. Spread out to make an even layer.
• Cook pastry on the middle rack for 20 – 25 minutes. At about 10 – 12 minutes, check to make sure pastry edges are not browning too quickly. To prevent excessive browning loosely tent foil over entire tart, do not crimp the foil tightly.
• While tart cooks, place apricot jam in small sauce pan and warm until liquified.
• When tart is removed from the oven, brush fruit with liquified jam.
• Let cool about 20 minutes, serve while slightly warm or at room temperature. Best eaten the same day.