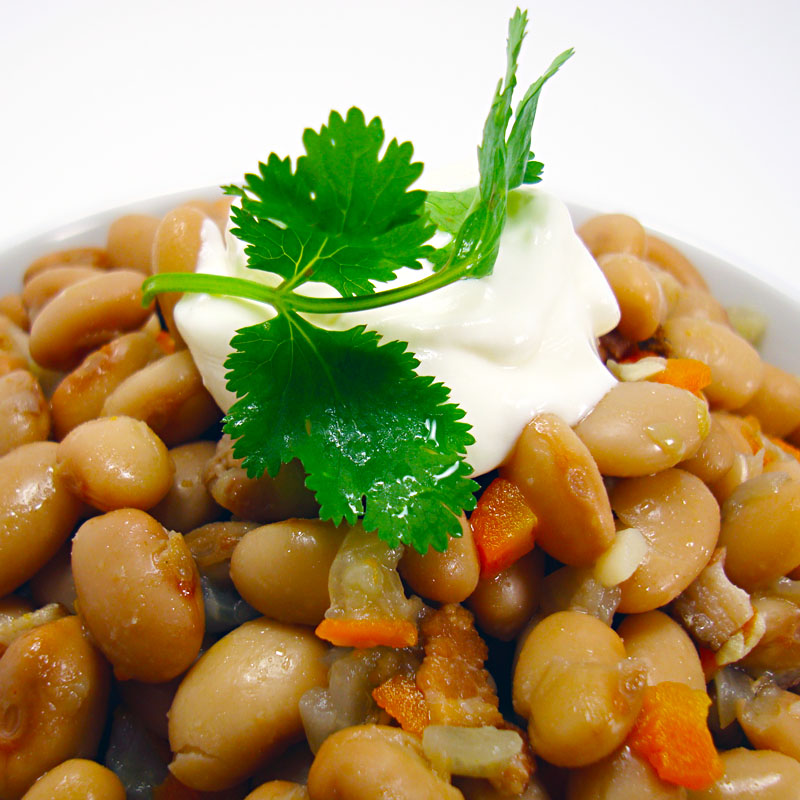 Really Good Pinto Beans
Serve as a side dish or as a hearty main entree with quesadillas, corn bread, or a crusty peasant bread. For variety, add meat or vegetables with rice or noodles.
Serves 8 as a side dish, 4 as a main entree.
Ingredients
• 1.5 cups dried pinto beans, rinsed and picked over
• 2 slices uncured apple-smoked bacon, chopped (we like Trader Joe's )
• 1 small sweet onion, chopped
• 2 medium carrots, diced
• 1 large clove garlic, minced
• 1 dried bay leaf
• 32 oz. box of reduced sodium chicken broth (we prefer Swanson)
• Lime
• Sour cream for garnish
• Fresh cilantro for garnish
Soaking the beans
• Soak dried beans overnight in a bowl with enough water to cover them by an inch. Place a plate over the top of bowl. If you can't soak the beans overnight, use the Quick Soak method below.
• Quick Soak method: Place beans in a pot, uncovered, with enough water to cover beans by 2 inches. Bring to a boil over high heat, allow to boil for 2 minutes. Cover and remove from heat and allow to sit for 1 hour. Drain beans in a colander, set aside.
Cooking the beans
• On a cutting board designated for raw meat only, cut the bacon into 1/2 inch pieces.
• On a different cutting board, chop onion, carrot, garlic.
• Place large pot, dutch oven, or pressure cooker (see below) on medium high heat. Cook bacon in pot until crisp. Add onion, carrot, and garlic to the bacon and cook until onion is tender. Add bay leaf.
• Pour drained beans in pot. Add enough chicken broth to cover beans by 2 inches. Turn heat to high and bring broth to a boil. Reduce heat to simmer, cover, and cook beans until tender (about 1.5 hours). Stir occasionally, adding more broth to keep the beans from sticking to the bottom and burning. The longer the beans cook, the richer the broth gets, and the creamier the beans become.
• When using a pressure cooker, bring beans, vegetables, and broth mixture to a boil, lock on top and cook according to your specific cooker's directions.
• When beans are tender, ladle into a bowl, add a squeeze of lime (1/4 or 1/2 lime), dab with sour cream and garnish with cilantro.