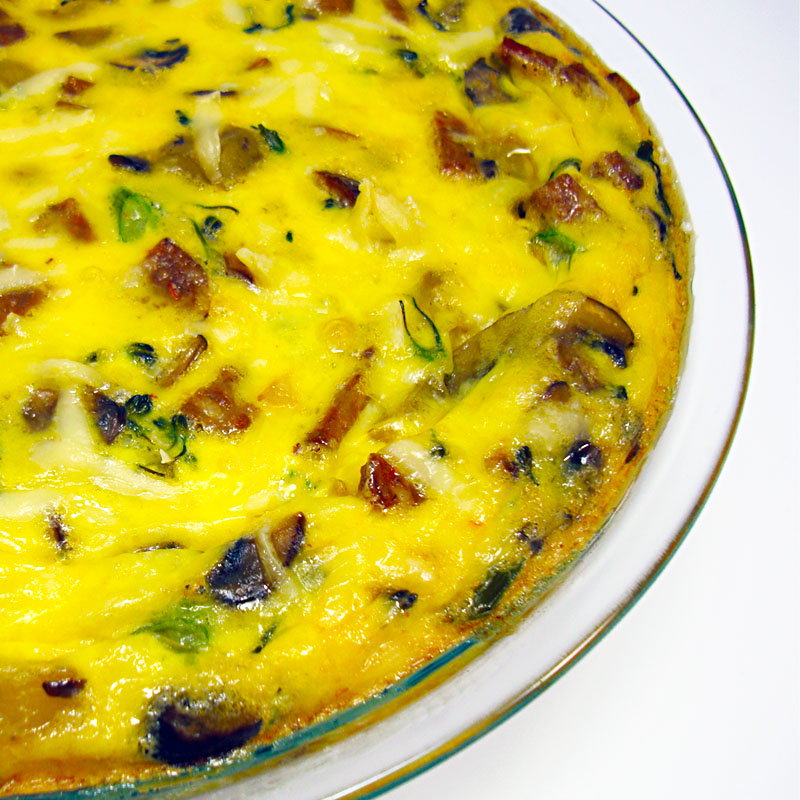 Nekkid Quiche
It's nekkid because it does not have a crust…
Serves 4 as main course
Ingredients
• 1 large sweet onion sliced
• Olive oil to cover pan plus 1 tablespoon of butter
• 6 large eggs
• 1 cup soy milk
• 1 cup grated swiss cheese, plus more for topping
• 1 cup diced cooked spicy sausage
• 1/2 cup diced potato with skin on
• 1 cup sliced crimini mushrooms
• 1/2 cup chopped broccolini
• 9 inch pie plate
Caramelizing The Onion
This process takes time, but it is absolutely worth it.
• In a 12-inch non-stick skillet, over medium low heat, cover bottom of pan generously with olive oil and add the tablespoon of butter. After butter melts, combine the two and add sliced onions. Spread the onions out to make one layer if possible. Once the onions begin to sizzle, reduce the heat to low and leave them alone. Do not stir.
• When the onions start to soften and begin to turn gold, then you can turn them a few times. This process can take up to 45 minutes. The idea is to let them cook slowly, undisturbed, so they can release their sugar, and get very tender, sweet, and golden brown.
Cooking The Rest
• While the onions are cooking, in a separate medium size pan heat 2 tablespoons of olive oil over medium high heat. Add diced potatoes and cook about 5 minutes, stirring occasionally, until they are almost tender.
• Add mushrooms and continue to cook until both are completely cooked. Adding more olive oil if needed. In the last few minutes of cooking, add cooked diced sausage until heated through. Turn off the heat, but leave the pan on the burner and add chopped broccolini and stir.
• Preheat the oven to 325 degrees.
• In a large bowl beat the eggs, stir in the milk and grated cheese.
• Add sausage & vegetable mixture to eggs and gently combine.
Assembling The Quiche
• When the onions have caramelized spread them out to evenly cover the bottom, using them as a base layer for the quiche.
• Slowly pour egg mixture into the pie plate. Fill to the top, but not so full you can't transfer it to the oven without spilling. Top quiche with a handful of grated cheese.
• Bake in center of oven for 40 – 45 minutes, depending on your oven.
• The quiche is ready when the sides start to brown and the center is not watery.
• Remove quiche from oven and let sit for 10 minutes before slicing.
• Great tasting when served soon after cooking and even better the next day.