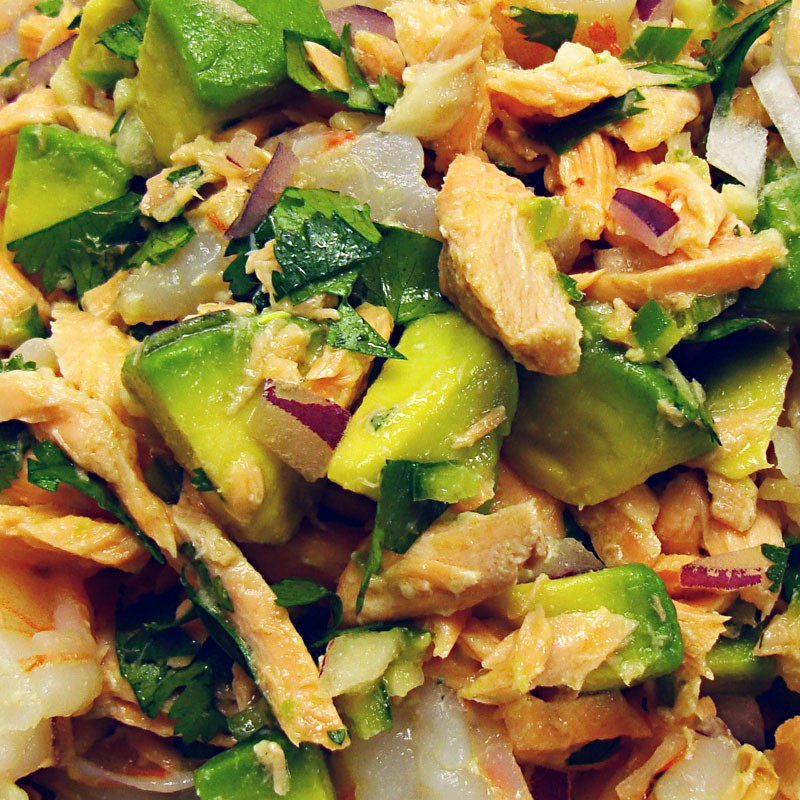 Cooked Ceviche Salad
Serves 2 as main course | Serves 4 as appetizer
Ingredients
• 1/2 lb. Steelhead Trout fillet, or any other mild fish
• 1/2 lb. extra large shrimp, peeled, deveined, cooked, and chopped
• Salt, to taste
• 2 tablespoons olive oil
• 2 level tablespoons chopped red onion (optional)
• 1 large or 2 small garlic cloves finely minced
• 1 serrano pepper, seeded and deveined, finely chopped
• Handful of cilantro leaves, chopped
• 1 large avocado peeled and chopped into medium size pieces
• Juice from 5 key limes, approximately 3 tablespoons
• Tostadas (baked, crisp, flat corn tortillas) sometimes called Chalupa shells, which are found in most grocery stores, on the isle where tortillas are sold
• Parchment paper
Directions
Preparing the Fish
• Preheat oven to 350 degrees.
• Place Fish fillet on sheet of parchment paper large enough to fold into an enclosed package. Approximately 15″ x 20″. Drizzle olive oil evenly over fillet. Salt fillet. Fold parchment paper, enclosing fish with folded edges seal so that steam does not escape. Place in a baking pan.
• Bake fish at 350 degrees, for about 20 minutes, or until fillet is opaque in its thickest part. Once cooked, remove from oven to cool. Unwrap the parchment paper and break fish apart with a fork into bite size pieces to speed up the cooling process. Discard Skin.
Preparing the Shrimp
• Cook in boiling water until opaque, approximately 2 minutes. Rinse under cold water in a colander, and let cool. Peel and devein shrimp. Place shrimp in bowl and into the refrigerator to speed up the cooling process.
Preparing the Salad
• While fish and shrimp cool, chop onion, garlic, serrano pepper, cilantro and avocado, and place in a medium size bowl. Pour lime juice over avocado mix, and toss to coat.
• Once fish has cooled to room temperature, add to avocado mix. Chop cooled shrimp into 1 inch pieces and add to fish and avocado mix. Taste for seasoning. Add salt and lime if necessary. Mix well.
• Let the salad sit at room temperature for about 30 minutes. This will give the flavors time to develop and bloom.
• Serve at room temperature or refrigerate. Serve with chalupa or tostada shells, or choice of chips.
Asian Variation
• Replace red onion with Scallions and add 2 Tablespoons of finely chopped ginger.