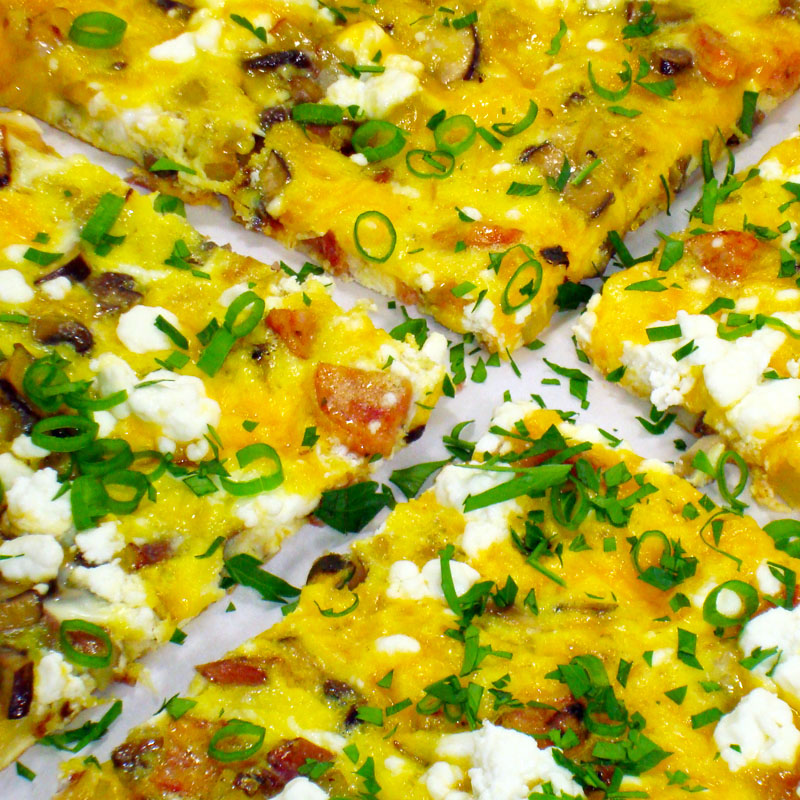 The Brunch Frittata is perfect for breakfast or brunch. Although on Sunday evenings, when getting ready for a busy week, this one-dish-dinner is just what you need; quick, easy, very tasty, and nutritious.
Serves 4
Ingredients
• 2 tablespoons canola oil, divided (1 tablespoon for the sausage-vegetable mixture, 1 tablespoon for the eggs)
• 1 link fully cooked pork sausage with casing removed, cut into small pieces
• 1 medium-size red potato, with skin, chopped into 1/4″ pieces, about 1 cup
• 1/2 cup sweet onion, chopped
• 4 or 5 baby bella mushrooms, chopped, about 1 heaping cup
• 1 tablespoon butter
• 5 whole eggs
• 1 egg yolk
• Salt & pepper to taste
• 1/2 cup grated cheddar cheese
• 1/4 – 1/2 cup crumbled goat cheese
• 1 tablespoon minced flat-leaf parsley for garnish
• 1 tablespoon minced scallion, green part only
Preparation
• Pre-heat Broiler. Set rack on the second highest level.
• Heat 1 tablespoon oil on medium heat, in a non-stick, oven-safe skillet.
• Add onion and potato and cook approximately 5 – 6 minutes until potato is tender, stirring occasionally to keep from getting too brown.
• Add mushroom to skillet and sauté for about 3 minutes, stirring occasionally until mushroom is tender.
• Add sausage and heat through.
• While the sausage-vegetable mixture cooks, whisk the 5 whole eggs and 1 yolk in a medium bowl. Add salt and pepper to taste. Set aside.
• Remove sausage-vegetable mixture from skillet. Wipe clean.
• Return skillet to medium heat and add 1 tablespoon canola oil and 1 tablespoon butter. Once butter melts, pour eggs into skillet, add cheddar cheese, and stir lightly to incorporate. Add sausage-vegetable mixture and distribute evenly.
• Cook until bottom is set, about two to three minutes depending on your stove. Egg mix center should remain soft and wet.
• Remove skillet from burner, top with goat cheese crumbles, and put skillet in oven to finish cooking. As soon as the egg mix is firm in the center, remove promptly. This will take between 30 seconds and one minute. Watch closely!
• Remove from oven and let sit for a couple of minutes.
• Run a heatproof spatula around the edges to release the fritatta. Slide or transfer onto a serving plate.
• Garnish with parsley and scallion.
• Cut into four wedges and serve.