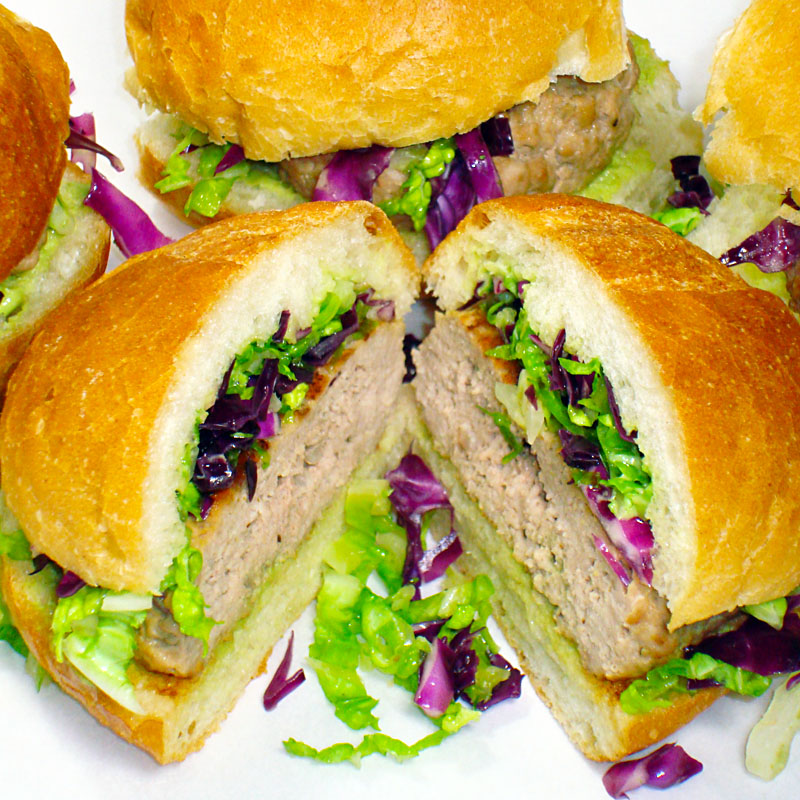 Asian Sliders are a great alternative to a traditional burger; small in size and big on flavor. The standard condiments are replaced with a sweet, spicy cabbage-ginger slaw, and a wasabi spread that adds a tasty zing.
Makes 4 sliders
Ingredients
Patties
• 1 tablespoon canola oil
• 1 pound natural ground pork
• 2 tablespoons minced red onion
• Salt and pepper to taste
Slaw
• 1 cup finely cut savoy or chinese cabbage
• 1 cup finely cut purple cabbage
• 3 tablespoons rice vinegar (seasoned)
• 1 teaspoon sugar
• 1 scallion, white and pale green part, chopped
• 2 tablespoons ginger finely chopped
• 1/8 teaspoon crushed red pepper
• 1/2 teaspoon toasted sesame oil
Other
• 4 French Rolls (we favor crusty breads because they add texture to the sliders)
• Wasabi spread (bottled wasabi spread found in the condiment aisle)
Preparation
• Wrap rolls in aluminum foil and warm in toaster oven or conventional oven.
• Heat 1 tablespoon oil in cast iron skillet over medium heat.
• In a medium bowl, mix minced red onion, ground pork, and salt and pepper. Use hands for combining these ingredients together. They are the best tools for the job.
• Divide and shape the pork into four patties. About 1/2″ thick and 3.5″ in diameter.
• Place patties in hot skillet and place grill press on top to keep them from puffing up while they cook. If you don't have a press, simply use a flat lid from a smaller pan placed directly on top of patties.
• Cook patties approximately 4 – 5 minutes on each side or to your liking.
• Note: Never press the burgers with a spatula while they are cooking, as this will remove the juices from the meat.
• Remove cooked patties from the skillet onto a clean plate, tent with aluminum foil and let rest for at least 5 minutes. Do not rush this part. The juices need time to redistribute to keep the meat moist.
• While the patties rest, make slaw. Slice both cabbages into very thin strips, put in a medium size bowl and set aside. Combine the rice vinegar, sugar, scallion, ginger and crushed red pepper into a small pot over medium high heat. Bring to a boil and cook about 1 minute until the sugar dissolves and the onion has softened. Remove from heat and pour directly over the sliced cabbage.
• Drizzle sesame oil over cabbage-dressing mixture and stir.
Building the slider
• Remove rolls from oven and slice in half lengthwise. Pinch out the soft interior bread from the top half, making it thinner, while keeping the bottom half in its original form.
• Generously spread the wasabi on the inside of the buns.
• Assemble the slider with plenty of slaw.